CGN documentary spotlights 40 years of reform and opening-up
Source: 发布时间: 2018/09/28
China General Nuclear Power Corporation (CGN) released the large-scale documentary Nuclear Power in 40 Years of Reform and Opening-up at China Great Hall Hotel in Beijing on Sept 27 as a prelude to its upcoming 24th birthday.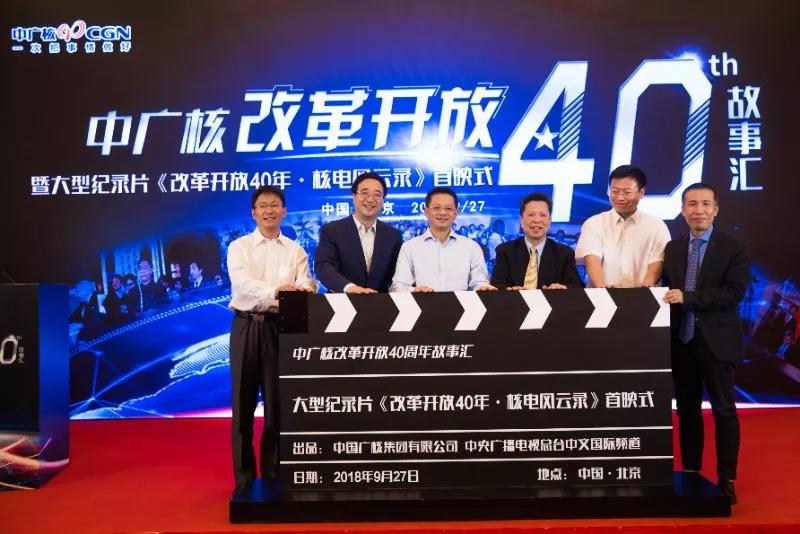 Representatives from the State-owned Assets Supervision and Administration Commission of the State Council, the National Nuclear Safety Administration and the documentary producer China Central Television attended the premiere.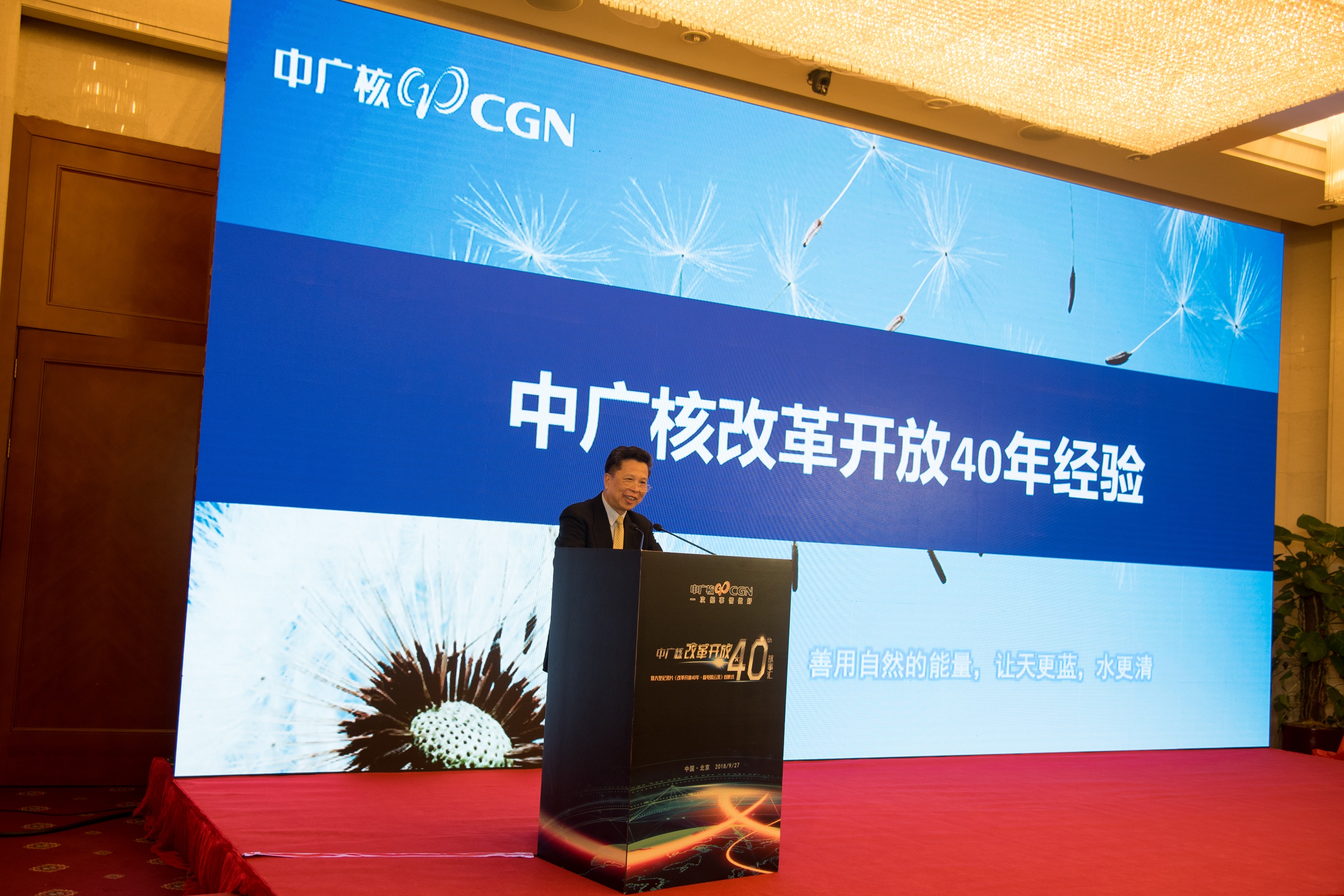 CGN Vice president Tan Jiansheng shared the experience of the company's development.
According to him, CGN has embarked on a development path of "introduction, digestion, absorption and innovation" since Deng Xiaoping announced the building of a large-scale nuclear power plant (NPP) in China based on French technologies. It has now grown into the country's largest and world's third largest nuclear power enterprise, and has produced a calling card for China -- the HPR 1000.
CGN is a product of reform and opening-up. Its birth, development and rise are a miniature of China's reform and opening-up history, said Tan.
The company started from the Daya Bay NPP, the first gigawatt-level commercial NPP on the Chinese mainland. Deng, "designer-in-chief" of China's reform and opening-up, decided to buy two NPPs from France in 1978, which lifted the curtain on China's large commercial NPP's development. Daya Bay NPP, the largest Sino-foreign project in the early stage of reform and opening-up, is its signature.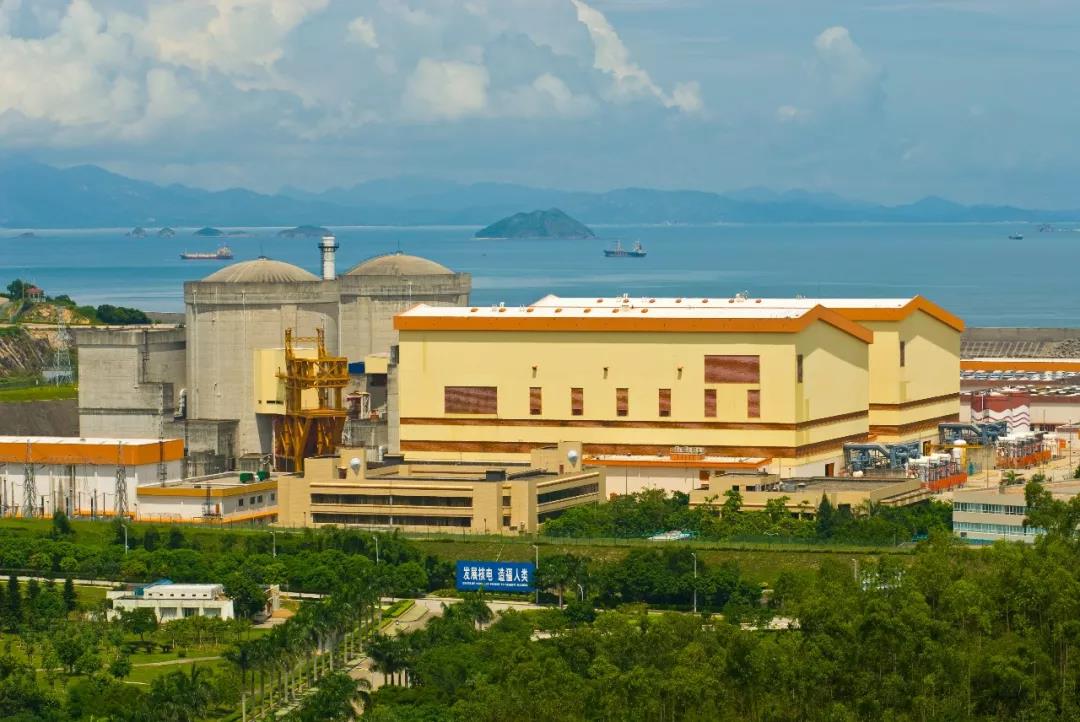 The project, which entailed a whopping investment of $4 billion, initiated a brand-new mode of "construction by loaning, selling electricity for repayment, and running by a joint venture". It not only addressed the financial difficulties, but made a legend of "from zero capital to fission".
After 40 year's development, CGN now has 21 nuclear power units in operation and seven under construction, and holds total assets of nearly 700 billion yuan ($102 billion).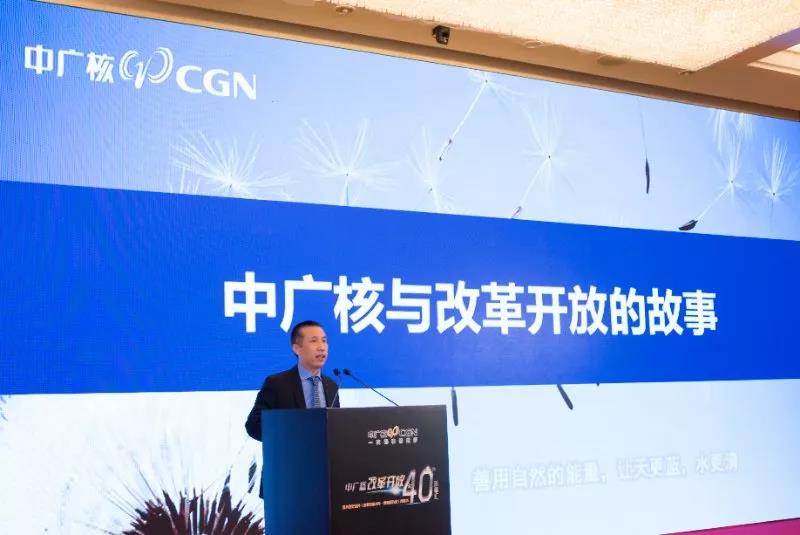 CGN spokesman Huang Xiaofei narrated 10 typical stories of the company amid the wave of China's reform and opening-up, and described the nuclear power industry as one of the period's most important achievements.
More than 30 years ago, France and Britain arrived to build China's first gigawatt-level commercial NPP, the Daya Bay NPP. Things have changed; on Sept 29, 2016 CGN signed a suite of agreements with Electricite de France (EDF) and the UK government to build the UK's first NPP in 20 years, a historic breakthrough in China's nuclear power's global expansion.
The Britain project encompasses three parts, the Hinkley Point C (HPC), Sizewell C (SZC) and Bradwell B (BRB) projects. The last of the three adopts HPR1000 Chinese Gen-III nuclear power technology with independent intellectual property rights. The entrance into the UK nuclear power sector in the UK means that China has been transformed from an importer of nuclear power technology to an exporter, a result of CGN's adherence to an innovation-driven development strategy.
Innovation is the primary driving force for development. CGN's annual investment in scientific research has accounted for about 5 percent of its operating income over the last decade. The company has invested nearly 10 billion yuan in scientific research over the past three years.
Currently, CGN has one State-level key laboratory, one State-level engineering technology R&D center and seven State-level energy R&D centers.
The significant amount of R&D investment has enabled CGN to produce a number of major scientific achievements. In addition to the HPR1000 technology, it has developed a nuclear safety-class distributed control system (DCS), "FirmSys", which is China's first NPP central nervous system. It makes China the world's fifth country capable of supplying such systems. The system has been applied in Gen-II to IV reactors at the newly built nine nuclear power projects, saving 3 billion yuan.
Additionally, CGN is leads in R&D of advanced fuel assemblies and plasma solid waste treatment technology, while pioneering electron beam sewage treatment technology. It has also been active in the exploration of advanced reactor and accident tolerant fuel.
In the beginning, less than 1 percent of Daya Bay NPP's equipment was sourced from domestic companies. The number increased to 30 percent in LNPS I, as CGN consciously purchased products of domestic equipment manufacturing enterprises. The domestication rate soars to 64 percent when it comes to the two nuclear power units in LNPS II, a project in which domestication of major gigawatt-level NPP equipment such as steam turbines was realized.
CGN launched a joint R&D center for independent development of nuclear equipment in 2009, and achieved leapfrog development in equipment R&D and supply capacity.
With the scaled development of nuclear power in China, the proportion of nuclear power domestication rate is constantly rising, climbing from 75 percent in Hongyanhe-1, to 85 percent in Units 5/6 of Yangjiang NPP, and to 86.7 percent at Phase II of Fanchenggang NPP (HPR1000 demonstration project).
CGN's construction of 20 CPR1000 units has driven the development of more than 5,400 enterprises in the entire industrial chain. It has established China as a world leading nuclear power equipment manufacturing base with core design and manufacturing technologies for key equipment at nuclear and conventional islands.
Safety is the lifeline of nuclear power, and the loftiest part of the mission of China's nuclear power industry. In the early stage of the construction of Daya Bay NPP, management decided to "find the best teachers" and "cultivate talents to the world's first-class level".
From 1989 to 1990, CGN sent more than 110 staff members to study nuclear power technology abroad in three groups, at a training fee of 1.3 million francs per person. This is where the nickname "Gold Person" arose. In addition to the high tuition, "Gold" means these newly-minted experts were the seeded talents of CGN. They helped the company set up a full-fledged nuclear power construction, operation and management systems and an associated nuclear safety culture, and reap the world's highest operating revenue.
The 21 in-service nuclear power units keep leading globally in safety management. Of 240 WANO indicators (a significant measurement of nuclear safety) for 20 in-service units, 177 have reached the world's first quartile (advanced level) in 2017. Units under construction are all graded at or above level seven for safety and quality at project sites based on the International Safety Rating System standard. LNPS I's Unit 1 has safely operated for 4,500 consecutive days, setting a worldwide record for similar units.