CGN Chairman speaks on CCTV program
Source: 发布时间: 2018/04/23
China General Nuclear Power Corporation (CGN) has expanded its presence in countries and regions involved in the Belt and Road Initiative, said CGN chairman He Yu in an April 22 interview on the popular financial TV program Dialogue broadcasted by China Central Television 2 (CCTV2).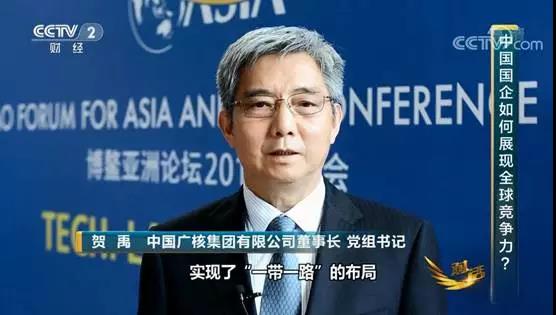 He Yu, chairman of CGN, speaks on the CCTV program Dialogue broadcast on April 22.
CGN's cutting-edge nuclear power products are exported to the UK and the company is expanding its global layout in uranium mining, He said, adding that it produces about 10 percent of the world's uranium.
He noted that the company is the largest independent power supplier in Egypt and Bangladesh and has overseas assets worth more than 100 billion yuan ($15.69 billion), with overseas markets accounting for 20 percent of company revenue.
His remarks show CGN's resolution and confidence to develop into a world-class enterprise with global competitiveness.
The program, with a theme of "Enterprises' competitiveness in the era of globalization", was recorded during the Boao Forum for Asia Annual Conference in early April. It was also attended by Xiao Yaqing, head of the State-owned Assets Supervision and Administration Commission, former WTO Director-General Pascal Lamy, Zhu Min, head of the National Institute of Financial Research at Tsinghua University, and senior executives of China's rolling-stock maker CRRC Corp and China National Machinery Industry Corporation.
The attendees shared their views on how to improve competitiveness in globalization and the role of state-owned enterprises in the world economy.