CGN chairman urges more attention to nuclear safety
Source: 发布时间: 2018/04/24
The 2018 Spring Summit of the China Nuclear Energy Sustainable Development Forum was held in Beijing on April 23.
The summit took the theme of "Opportunities and Challenges for Nuclear Energy Development in the New Era". It focused on new situations, opportunities, challenges, tasks and requirements in the development of China's nuclear energy industry under the construction of socialism with Chinese characteristics in the new era.
He Yu, chairman of China General Nuclear Power Co (CGN), attended the summit and was interviewed by CCTV reporters on China's Generation-III nuclear technology.
During the interview, He outlined the construction progress of the No 3 and No 4 power units of the Fangchenggang Nuclear Power Plant, which are the demonstration project of HPR1000, a Gen-III nuclear power technology.
During the summit, he made a keynote speech and stated that "we must have a deeper understanding of the essential importance of nuclear safety." He introduced CGN's experience and achievements in all-round and strict management to ensure nuclear safety.
He also called on industry insiders to "cooperate and shoulder the mission of safe and efficient development of nuclear power."
He pointed out that in recent years, especially after the nuclear accident in Fukushima, CGN has actively faced the new situation of nuclear security and strictly implemented new nuclear safety requirements. It has strived to improve the quality of personnel, the nuclear safety management system and industry regulations.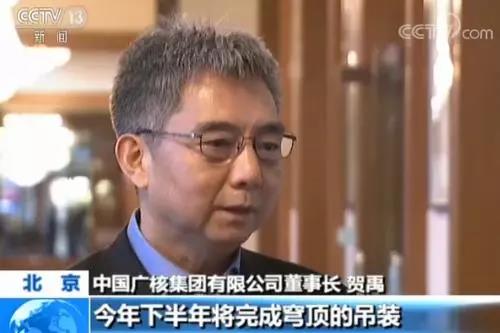 He Yu, chairman of CGN, in an interview with CCTV on April 23.
At present, China's nuclear safety still faces some challenges. There is a certain gap in the safety management level of each power plant. Global nuclear power is also faced with problems such as aging of units and unbalanced capacity and development.
"We should fully recognize the complexity and difficulty of nuclear power safety, and we should not slacken off," He added.
According to He, CGN will always keep in mind President Xi Jinping's request for "focusing on both development and safety". Through intensified communication and cooperation with the government, associations and enterprises, CGN will form a joint force to continuously enhance its ability to control risks and accept challenges. CGN will work hard to safeguard nuclear safety and make new contributions to the safe and efficient development of nuclear power.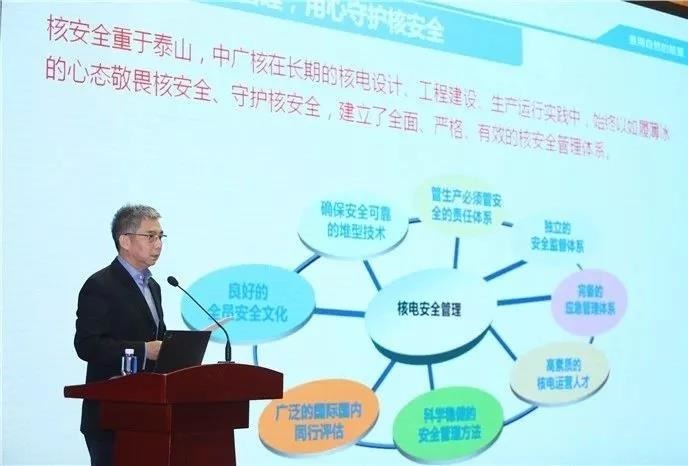 CGN Chairman He Yu speaks at the 2018 Summit of the China Nuclear Energy Sustainable Development Forum in Beijing on April 23.
The 2017 China Nuclear Industry Association Science and Technology Awards Ceremony was held during the summit. CGN won 22 awards including one first prize, five second prizes and 16 third prizes.
The Nuclear Energy Industry Association released the blue book of "China Nuclear Energy Development Report (2017)" and the report of "Research on the Strategic Value of China's Third-generation Nuclear Power Development ".
More than 300 experts and representatives of China's nuclear industry attended the meeting, including Wang Yiren, deputy director of the State Administration of Science, Technology and Industry for National Defense, Tang Bo, deputy director of the National Nuclear Security Agency, Zeng Yachuan, director of the Nuclear Power Division of the National Energy Administration, Wang Shoujun, chairman of China National Nuclear Co and Wei Suo, deputy general manager of State Power Investment Co.