Unit 3 of Fangchenggang NPP completes dome installation
Source: 发布时间: 2018/05/23
The dome of Fangchenggang Nuclear Power Plant (NPP) Unit 3 was moved into place on May 23 in the Guangxi Zhuang autonomous region. The plant, using domestically developed Hualong One (HPR1000) technology, is also the model for a proposed plant at Bradwell in the United Kingdom.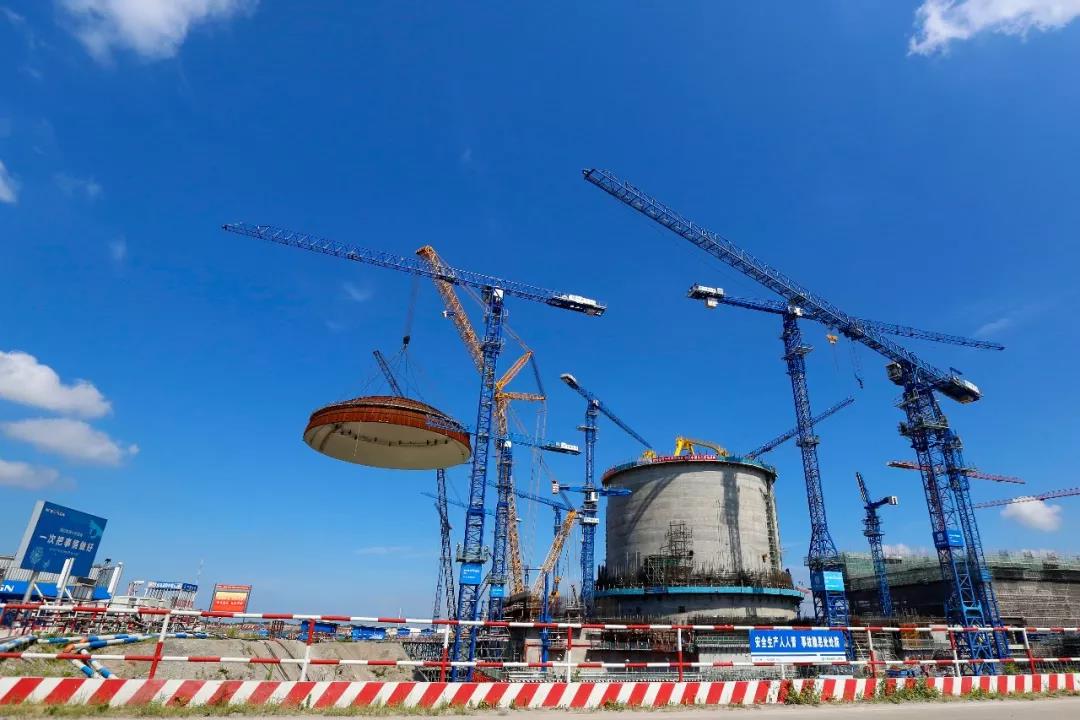 The hemispherical dome completes installation at Unit 3 of Fangchenggang Nuclear Power Plant on May 23 in South China's Guangxi Zhuang autonomous region. The plant uses Hualong One technology, a domestically-developed third generation reactor design.
Gong Guangchen, spokesman for Guangxi Fangchenggang Nuclear Power Co, said that the dome installation is an important step in the construction of a nuclear power station. The dome is an important barrier securing nuclear safety and is vital to ensure integrity and airtightness of the reactor building.
The hemispherical dome for Unit 3, measuring 45 meters in diameter and 13.6 meters in height, is formed by 70 separate sidings with internal safety and control systems. Together with necessary pipes and steel cables, it weighs 260 metric tons.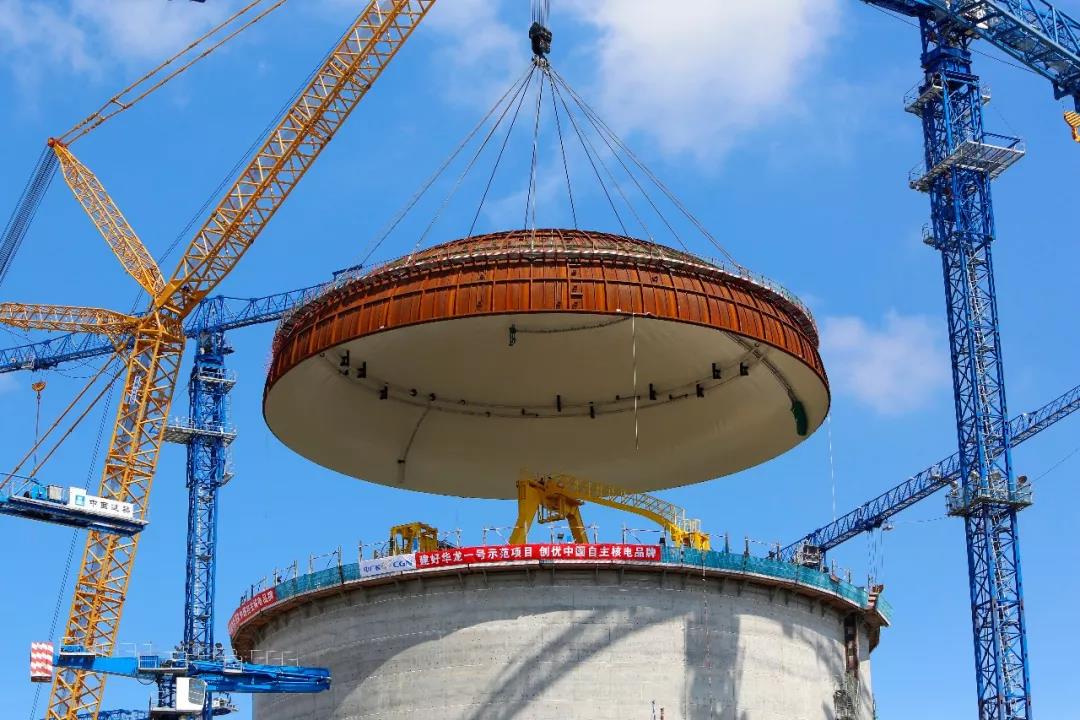 Photo taken on May 23, 2018 shows the installation site of a hemispherical dome at Unit 3 of Fangchenggang NPP in South China's Guangxi Zhuang autonomous region.
As large as four standard basketball courts, installation of the dome demanded high technical requirements. It was a big challenge to hoist such hefty equipment as high as 63 meters and position it precisely onto the circular nuclear island with deviation controlled within a few millimeters.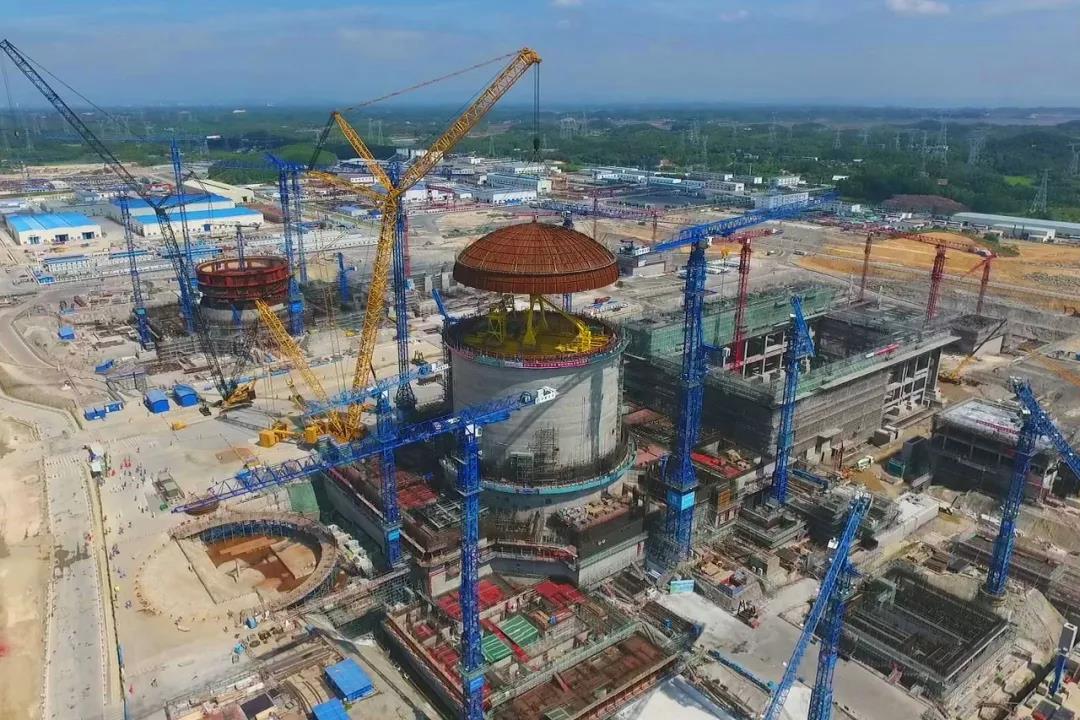 The hemispherical dome is moved into place at the reactor building of Fangchenggang nuclear power project.
"This time, we innovatively adopted intelligent building technologies, such as three-dimensional modeling, and used sandboxes to deduce the whole hoisting process. It helped us detect and make plans for the difficulties," said Guo Zonglin, commander in chief of the Hualong One demonstration project and deputy general manager of China General Nuclear Power Engineering Co. "The use of intelligent engineering technologies enabled us to predict risks and improve construction management."
"Dome installation was completed eight days ahead of schedule, which is a testimony to China's strong strength in domestically developed third generation nuclear technology and CGN's competence in building a reactor based on Hualong One design," said Guo.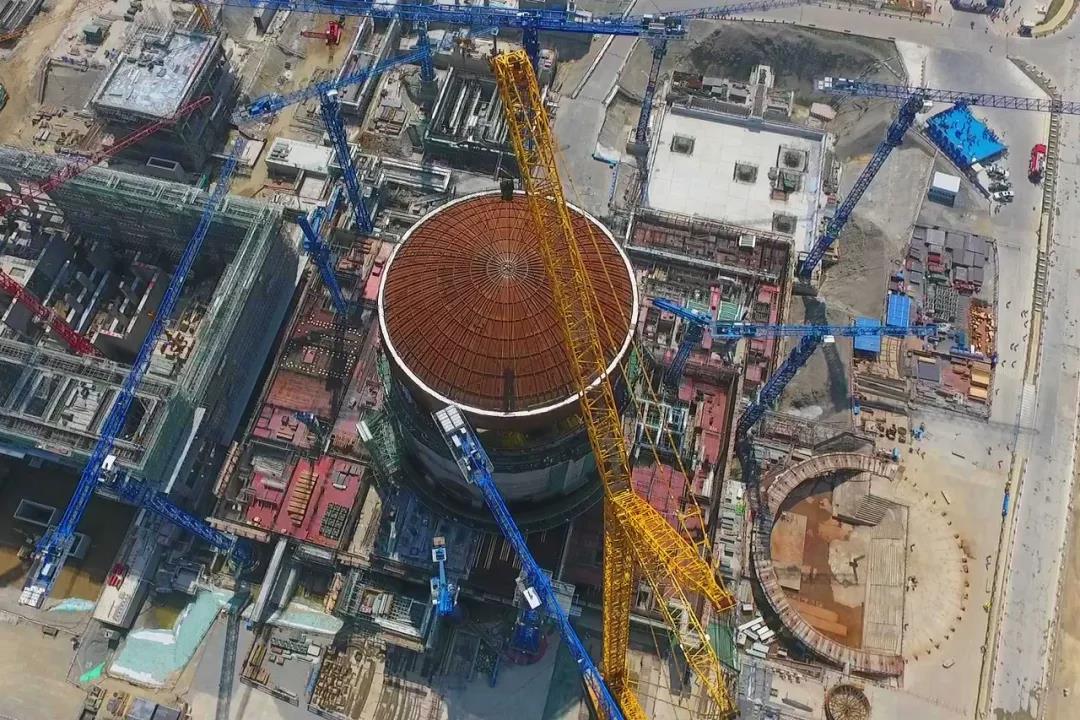 The construction site of Fangchenggang NPP Unit 3 in the Guangxi Zhuang autonomous region
The project uses Hualong One technology, a third-generation reactor design, which draws on gained experience in design, construction, commissioning and operation of existing pressurized water reactors in China as well as the latest research results.
About 90 percent of the parts and equipment used in the project's construction were sourced domestically, making CGN a strong competitor in domestic and overseas nuclear power markets and Hualong One a calling card for going global.
CGN has been an active player in the Belt and Road Initiative and has signed a number of agreements for projects launched in collaboration with overseas partners.
On May 21, 2015, CGN signed agreements with EDF for investment in the construction of nuclear power projects in the UK. The Bradwell B nuclear power project plans to adopt Hualong One technology which is deployed in the second phase of the Fangchenggang NPP.
At present, Hualong One technology is in the second phase of the UK's Generic Design Assessment (GDA) and is expected to enter the third phase this year.
CGN has been making efforts to expand the applications of Hualong One technology in Central and Eastern Europe, Africa and Southeast Asia.
CGN Chairman He Yu said that as a Hualong One demonstration project, Phase II of the Fangchenggang NPP shoulders an important mission of demonstrating home-grown nuclear reactor design. Its smooth progress will promote the going-global of China's self-developed technologies and equipment.
Export of one HPR1000 reactor equals the total value of the export of 200 commercial passenger planes and involves more than 5,400 Chinese enterprises in equipment manufacturing industry, according to the company chairman.
It is of great importance in raising the profile of "Made in China" and "Intellectually Manufactured in China".
At present, Fangchenggang NPP Phase I has two units in operation, which annually provide 15 TWh of safe, clean and economical electricity to Beibu Gulf Economic Area.
"Once completed, the two units for the Fangchenggang Phase II will reach an energy output of 16.5 TWh per year. The environmental effects are equivalent to an increase of 40,000 hectares of forest," said Chen Jian, general manager of Guangxi Fangchenggang Nuclear Power Co. "The company actively carries out green development and plays its part in controlling air pollution, achieving China's goal of controlling greenhouse gas emissions and protecting the environment."